10 Reasons this art selling platform works for me, and could for you too!
Oct 28, 2016
#1. Art Storefronts is dedicated to artists and people who create things. Whether you are a photographer like myself, a paint artist, or any other type of 2D or 3D creative artists, e.g. a sculptor, jeweler, etc., this platform is dedicated to you. If you have a desire, along with the motivation and drive to work and learn to sell your products over the Internet, then this platform was created for you. Not only can artists use this platform, but printing companies can use it as well. The platform will actually work for artist and photographers who need printing services, artists and photographers who print or produce their own artwork, and even printing companies who print other artist and photographers' work. Below is my own website which was setup using this platform and has evolved and changed over time. I'm sure it will change in the future as well:​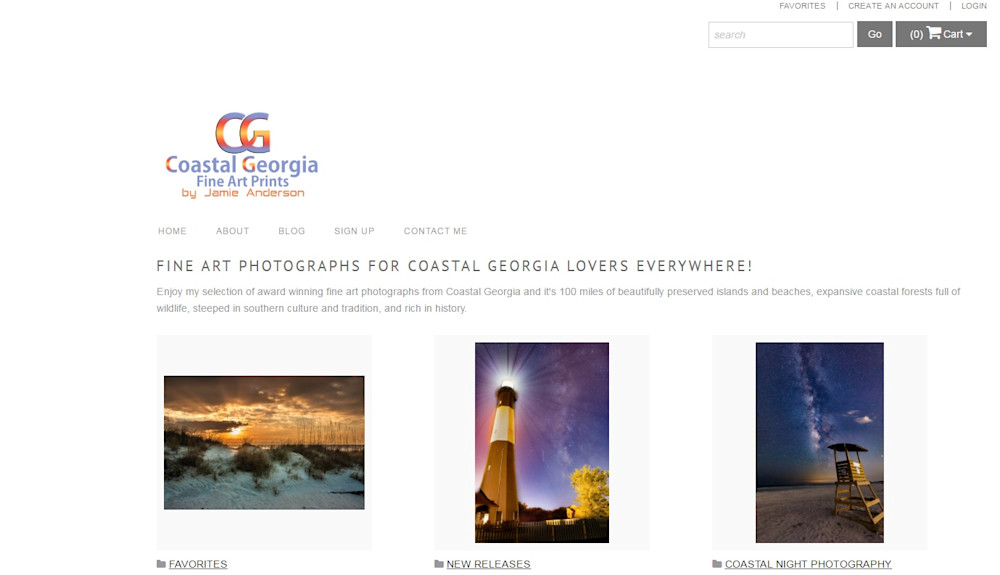 #2. The company behind this artist platform is dedicated to helping you sell artwork online. Notice I didn't say that they are dedicated to selling your artwork or that your artwork would sell itself once you upload pictures of it to this platform. The common myth among many artists is that once your artwork is loaded on a platform, and made available for sale on the internet via your "own website", that your job is done. Somehow the search bots of the most famous search engines, will find your website and soon people from all over the world will be flocking to your website and standing in line to make purchases. Some platforms float the myth that the more times your artwork is shared, the more quickly it will rank higher in the search engines, and the more it will eventually sell. Well, if it sounds like a get rich quick scheme, maybe it is. This myth has resulted in an explosion of artwork on the Internet, a saturation of the market, any many artists left scratching their heads wondering why their artwork is simply not selling itself. The resulting conclusion that many artists incorrectly assume is that their artwork is simply not good enough to sell. Some artists go even further and make a decision that marketing and selling their own artwork is simply not for them and they end up loathing anything to do with marketing. These artists usually go back to producing art only as a hobby and they are okay with that decision.
#3. This artist platform, and the company behind it, differentiates itself by giving you all the tools to help you sell your artwork, which they are constantly analyzing and updating with their latest research and findings. Take for example, the twenty point, three phase "Success Plan". If you are an artist reading this, do you have a "success plan", or even a "business plan"? Has any other platform that you have tried offered you one? Well, not only does this platform offer you a success plan, but it 's also an online success plan that you can log into and check off each step that you have completed. But wait, it doesn't stop there... the company behind the platform, like I said, is constantly analyzing the plan, and will update it if they determine a better method can be used for any one point in the plan. These changes in the plan are totally built on research and analysis that the company is doing that supports the platform. All of the points in the plan are totally up to you, the artist, to put into practice. Whether or not you use them, is totally up to you, but just the fact that you have a company out there that is willing to research and give you this as an added benefit to your platform is amazing.
#4. In order to get your website setup correctly, there are setup guides available to download. There are templates to use to start with that will give your website a basic look, but the setup guides go further and instruct you on how to setup your website so that it optimized for ease of navigation, both on a computer and a mobile device, and to sell artwork. Uploading products, creating categories, Search Engine Optimization (SEO), quick and convenient end user navigation, creating a professional look, creating a trustworthy looking site, are all topics that are put into the setup guide to get you pointed in the right direction from the beginning.
#5. Now, along the way and especially during your initial setup, you may have some questions. There are several options to choose from to get more information on or advice on a question that might arise during setup or any other time. First, this company will give you a "Welcome Aboard" call, where they will personally walk you through the features of their platform and orient you in the right direction. Second, there is a searchable Support Database. This database contains articles on all kinds of topics from General Information to Site Design. Also, if you cannot find the answer you are looking for or if you believe you have discovered a new technical issue, you can click on "Submit a Request" and open a ticket for the particular issue. Third, there is the Forum. Here you can read discussions between members who use this platform, or you can start your own discussion. Personnel from the company might respond, and/or other users of this platform can respond. Fourth, there is a Blog that is published by the company which contains invaluable new articles on the latest information regarding your website and marketing techniques which will help you succeed. Submit your email for this Blog, and you will be notified of each new "can't miss" article.
#6. When you think that your website setup is complete and your website is functioning well enough to launch, you can click over to the "Site Auditor" back on the "Success Plan" tab. The Platform will have already been auditing your site and checking off items that you have setup using the best advised methods based on research. You can easily look at this audit and see if any further improvements can be made to your website. These improvement items like everything else on this platform are totally optional and you can make the decision as to when you want to launch your new website and when you want to make the improvements.
#7. Marketing Tools: Now what would a platform, built by a company dedicated to helping you sell artwork, be without marketing tools? Just another web hosting company trying to get you to pay a fee to host your artwork on their site. Essential marketing tools, like the ability to setup a lead capture screen in order to build your email list are included, the ability to create discount codes so that you can run promotions, and in depth statistics so you can see what the web traffic is like on your website. Not only can you see the web traffic, but in depth analysis tools show, for example, what portion of that traffic is being converted into sales, how many leads you are acquiring per month, and if you are retaining any of your customers for future sales. There are also blogs and support information available which tell you the best practices for using these tools. I know from previous experience, that some of these tools are not offered on other platforms, and even essential information for building your business is withheld from you, the artist, such as the very contact information of the customers who have purchased your artwork.
#8. The end user interface for making a purchase is optimized for ease of navigation and functionality. For artwork, the end user is presented with a variety of mediums that they can select to have your artwork printed on. After selecting the medium, the end user can then select the size that they want. Finally, they can select the Style or finishing touches, e.g. matting or framing options. All of these selections directly influence the cost, which is updated with every selection. Behind the scenes, you (the artist) are able to control which Mediums and Sizes are available to choose from, and as stated above, you control the prices that you charge as well. Additionally, user-friendly options such as the Wall Preview are available so that the end user can see the artwork with all the selections that they have made on a wall. In this Wall Preview, they can select their own wall color and room to give them a very good idea what the artwork might look like on their own wall. Additional user-friendly items and added benefits are the "Email a Friend " option where the end user can send their selection to a friend or significant other to get their opinion, and the Save to Favorites option if the user would like to save it for a purchase at a later time. Below is an example of the Wall Preview technology. As you can see, there are options to change the wall color, the size, and also the room: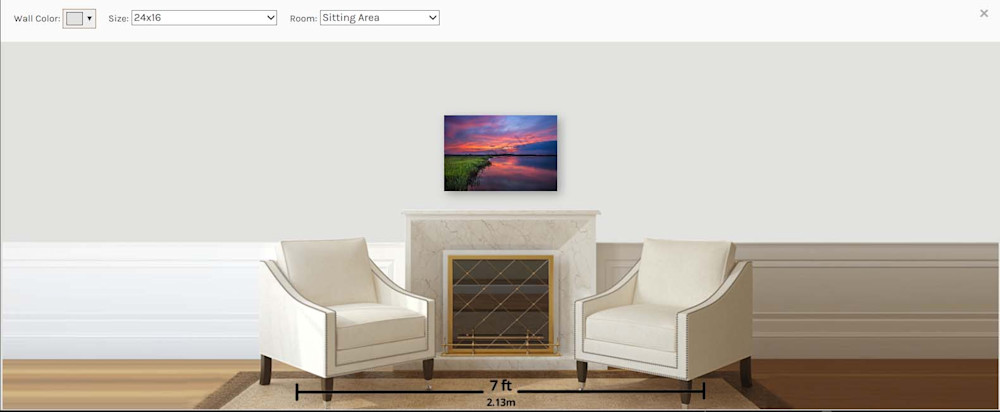 #9. Speaking of orders, the company behind this platform has also worked out the best methods for getting the money from your orders to your bank account as soon as possible. No longer do you have to wait thirty or more days before a check is mailed to your house if minimum amounts are met. Once an order is placed, almost simultaneously, the total amount (less some small credit card transaction fees) is being transferred to your bank account. If you are using a fulfillment printing company, your website is integrated into their website so that the order is copied to them and your credit card is charged the wholesale cost. Not only that, you can look up the status of each order to see, for example, when it was received and when it was shipped. By the way, did I mention that you set the prices on your own website and have full control over the prices that you charge the customer? The only exception to this might be the shipping cost that your fulfillment company charges or the tax rates that are mandated to you by your government. If you are shipping the product yourself, you are free to set your own shipping charges. This creates a win-win situation where everyone is paid as soon as possible and the order is fulfilled and shipped to your customer as soon as possible.
#10. By now if you are a creative person looking to market your work, you should be itching to know which company offers all of this and what company has put together a platform so that you the artist are given everything you need to succeed. Not only are they in the market to help you succeed, they are doing the research in real time in the current market and analyzing their current methods against new marketing ideas and methods. When they find something that research and solid data has proven it will work, then they are more than happy to share the information with you free of charge so that you can put it into practice as well. If you could find such a company, what would it be worth to you? This question is pertinent because, like I said and have hopefully made the point, this company offers way more than so many other companies that either are offering you a website platform that totally leaves it up to you to market your artwork, or are offering you a platform whereby they market your artwork and keep most of the profits. In my own past experience, you can end up very easily in one of these platforms because they are inexpensive to get into and easy to setup. Yet, for most people they are a trap and you could end up spending years with little or no good results in an oversaturated market. So, if you are considering what platform to use, or you are already in an over saturated market, or you want more control over your own art business and the results, I suggest you check out this company and if you are like me, what you will hear is the truth, and as they say, "The truth will set you free". Don't waste the next few years wondering "Why?" Find out now. For more information, visit this website and build a solid marketing platform based on solid research and the 10 reasons I mentioned above: ART STORE FRONTS.